North West Women in Tech Awards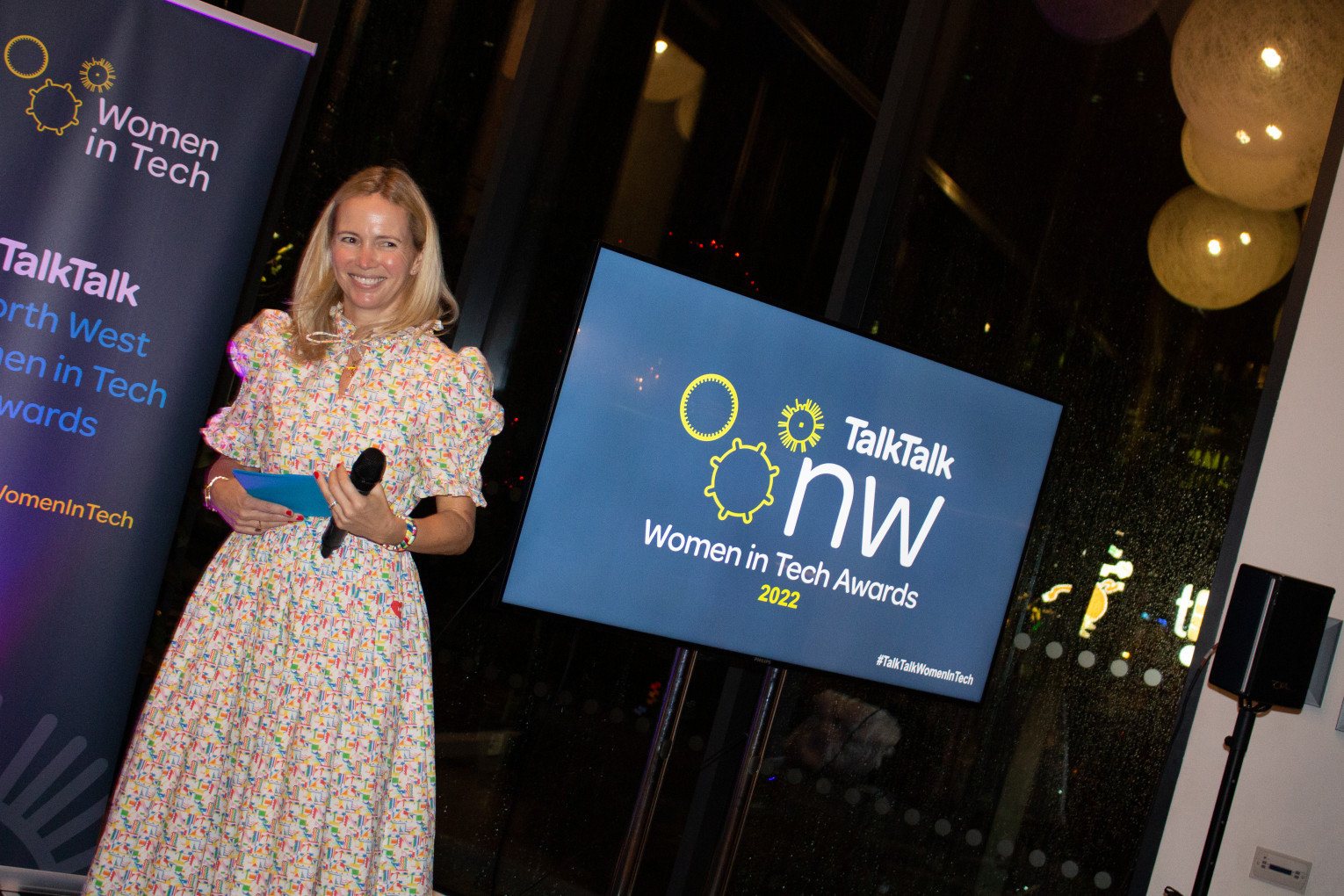 Manchester is one of the fastest growing tech hubs in Europe. From startups to blue chips, our region is thriving. However, some people feel that more than others. Only 26% of tech workers in the UK are female. There's a big gender pay gap too. We want to do what we can to help change that, to make the North West the best place for women to work in tech.
Our North West Women in Tech Awards celebrate the women doing amazing work in the tech sector across our region. The annual event champions the women and allies who are pioneering a change, creating opportunities and celebrating success – either for themselves or as part of a business.
We are proud to be working together to make tech a more inclusive industry and continue this important conversation.
This year's awards will be taking place on Wednesday 1st November 2023.
Our six award categories are:
Rising Star
Tech for Good
Innovation
Mentor of the Year
Team of the Year
Outstanding Achievement
This year's judging panel includes an inspiring line-up of tech advocates, entrepreneurs and journalists, including:
Sarah Bateman, CEO – UnifyEnergy
Yvonne Harrison, CEO - Women In Football
Harriet Noy, Founder and CEO - Hazaar
Sara Prowse, CEO - UA92
Swetha Singh Shamsundar, Head of Software Engineering – TalkTalk
Michael Taylor, Journalist and Editor – TheBusinessDesk.com (North West)
Beckie Taylor, CEO and Co-Founder of Tech Returners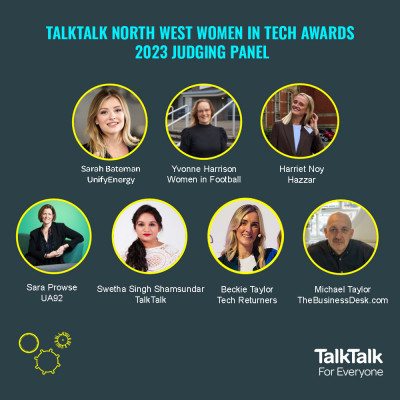 Our 2023 Winners
Rising Star – Elizabeth Burroughs, Hace: Data Changing Child Labour
Tech For Good – Emma Kay, Walksafe
Innovation – Dr Natalie Kenny, Biograd
Mentor of the Year – Vicki Harrison, Vaioni
Team of the Year – Manchester Digital
Outstanding Achievement – Katie Gallagher, Manchester Digital
Our 2022 Winners
Rising Star – Yasmin Sidat Senior Product Lead at Autotrader
Tech For Good – Emma-Louise Fusari, Founder of In-House Health
Innovation – Claire Bailey, Infrastructure Product Manager at Barclays
Mentor of the Year – Jo Sheerin, Head of Deal Origination at KPMG
Team of the Year – Tech Returners
Outstanding Achievement – Beckie Taylor, CEO and Co-Founder of Tech Returners
We've spoken to a diverse cross-section of women working across tech-focused roles in our region to discuss their experiences and recommendations on ways to improve female representation at all levels.
Find out more in our Women in Tech report here.

TalkTalk North West Women in Technology WIT Awards 2023 – Terms
Parties:

TalkTalk

TalkTalk Telecom Limited (Registered No: 4633015) whose registered office is at

Soapworks, Ordsall Lane, Salford, M5 3TT

You

You, the WIT Awards participant, nominator of a Nominated Person, the Nominated Person, the Invited Attendee to the WIT Awards, the Winner or any person that engages in the WIT Awards under these terms and conditions.

Definitions / Interpretation:

In these terms and conditions, "we" or "us" means TalkTalk. "you"/"your" means You. "Party" or "Parties" shall mean you and us together.

"Award"

Any of six awards given to a selected Winner (or Winners) by the Panel consisting of the following categories:

Rising Star;
Innovation;
Tech for Good;
Mentor of the Year;
Team of the Year; and
Outstanding Achievement.

"Invited Attendee"

Someone that is invited to attend the WIT Awards by TalkTalk in writing, or is a guest or plus 1 of an invitee.

"Location"

The location of the WIT Awards as decided and communicated by TalkTalk.

"Operator"

TalkTalk Telecom Limited.

"Nominated Person"

A woman or person that identifies as a woman and is nominated for an Award by another person in accordance with these Terms and any instructions given by TalkTalk.

"Panel"

The judging panel that will decide the Winner.

"Winner"

A Nominated Person that wins an Award, as chosen and collectively agreed by the judging panel.

"WIT Awards"

TalkTalk's North West Women in Tech Awards 2023

The WIT Awards:

These terms and conditions apply to the TalkTalk North West Women in Tech Awards. By attending or participating in the TalkTalk North West Women in Tech Awards you give your agreement to these terms and conditions.
TalkTalk reserves the right to cancel the TalkTalk North West Women in Tech Awards or to amend these terms and conditions at any time without notice.
Only Invited Attendees, confirmed on the guest list held by TalkTalk, may attend the TalkTalk North West Women in Tech Awards at the location.
In the event of any dispute regarding these terms and conditions or otherwise relating to the TalkTalk North West Women in Tech Awards, the decision of TalkTalk shall be final.

Eligibility:

To take part you must:




You cannot be nominated for any Awards if:


You are an employee or contractor of TalkTalk; or
If you are not a woman or identify as a woman.

Selection of Award Winners:

The Panel shall decide which Nominated Persons shall be selected for an Award and any selection is at their sole discretion. Each judge will follow the same process and criteria.

Prize winners:

If you are a Winner, you consent to TalkTalk's use of photos and video content, and TalkTalk reserves the right to use your photograph and likeness for publicity purposes. TalkTalk may make public and social media statements about the Winners, unless otherwise requested.

Data:

By entering you agree to TalkTalk's privacy policy outlined here: www.talktalk.co.uk/legal/privacy-policy/. You consent to the processing of your personal data by TalkTalk for the operation of the WIT Awards and as otherwise provided for pursuant to these terms and conditions.
Any personal data relating to you will be used solely in accordance with current UK data protection legislation and will not, as set out in these terms and conditions, be disclosed to a third party without your prior consent.

General:

These terms and conditions constitute the entire agreement between the Parties.
The Parties do not intend that any of the terms of this agreement will be enforceable by virtue of the Contracts (Rights of Third Parties) Act 1999 or otherwise by any person not a Party to it other than by an affiliate company of TalkTalk.
These terms and conditions are governed by and will be interpreted in accordance with the laws of England and Wales and any disputes relating to these terms and conditions will be subject to the exclusive jurisdiction of the English courts.
Any additional requests or concerns should be sent to the awards team at - talktalkwomenintech@talktalkplc.com