As the UK transitions to full fibre connectivity, with a government target of nationwide gigabit capable technology by 2030, there are many elements of that journey that touch customers' lives.
One of the most important is the interface between the equipment used in people's homes such as care alarms. It is vital that as the network infrastructure changes, the equipment is able to connect using that new technology too.
As a result, TalkTalk and other providers have set up testing labs for companies to come and test their equipment to ensure it can connect using Full Fibre and digital voice technology. Find out more and register your interest here.
Milbrook Healthcare Group are the latest to visit TalkTalk's Irlam based lab
Phil Cain, TalkTalk's Industry and Vendor Liaison manager, manages TalkTalk's test lab in Irlam. He's responsible for supporting suppliers, vendors and manufacturers of equipment that runs over the analogue network to get ready for the transition to digital technology.
Recently, Brian Bygraves, National TEC Product & Installations Manager from Milbrook, spent the day with Phil testing various pieces of equipment to ensure there will be no issues for their users once the transformation to digital networks takes place. Importantly, Brian recognised, that although he had already tested on the TalkTalk lines in the Openreach lab, he wanted 100% certainty and realised the benefit from testing at TalkTalk's own dedicated facility.
Brian tested various pieces of equipment from a number of different suppliers including Tunstall, Chubb and Possum, connecting equipment to digital and analogue networks directly and via the ATA on the TalkTalk routers. Digital tests were carried out on both FTTC and FTTP connections.
Commenting on his visit Brian said: "Milbrook has a duty of care to their end users/customers and robust testing of our alarms before recommending/providing them is an essential part of our process, to ensure that we are providing a safe, reliable product to support our users to achieve best outcomes."
Milbrook Healthcare Group are the latest company to visit our lab for testing. Other companies that have tested recently include Atlinks, Avire, BT Redcare, Lifeline 24, Network Communications Systems, Possum, Sanandco, Trucall and Tunstall.
And if you are an equipment manufacturer or supplier that wants to come along to our lab to test you can register online.
If you are a user of telecare equipment, why not ask your provider if they've tested their equipment and are ready for the move to digital.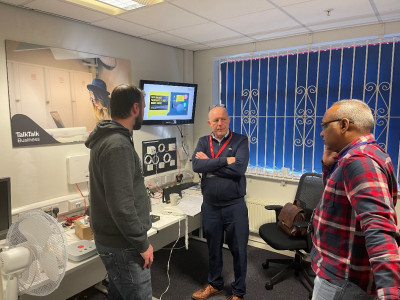 Brian Bygraves, National TEC Product & Installations Manager for Milbrook at the TalkTalk Test Lab in Irlam.