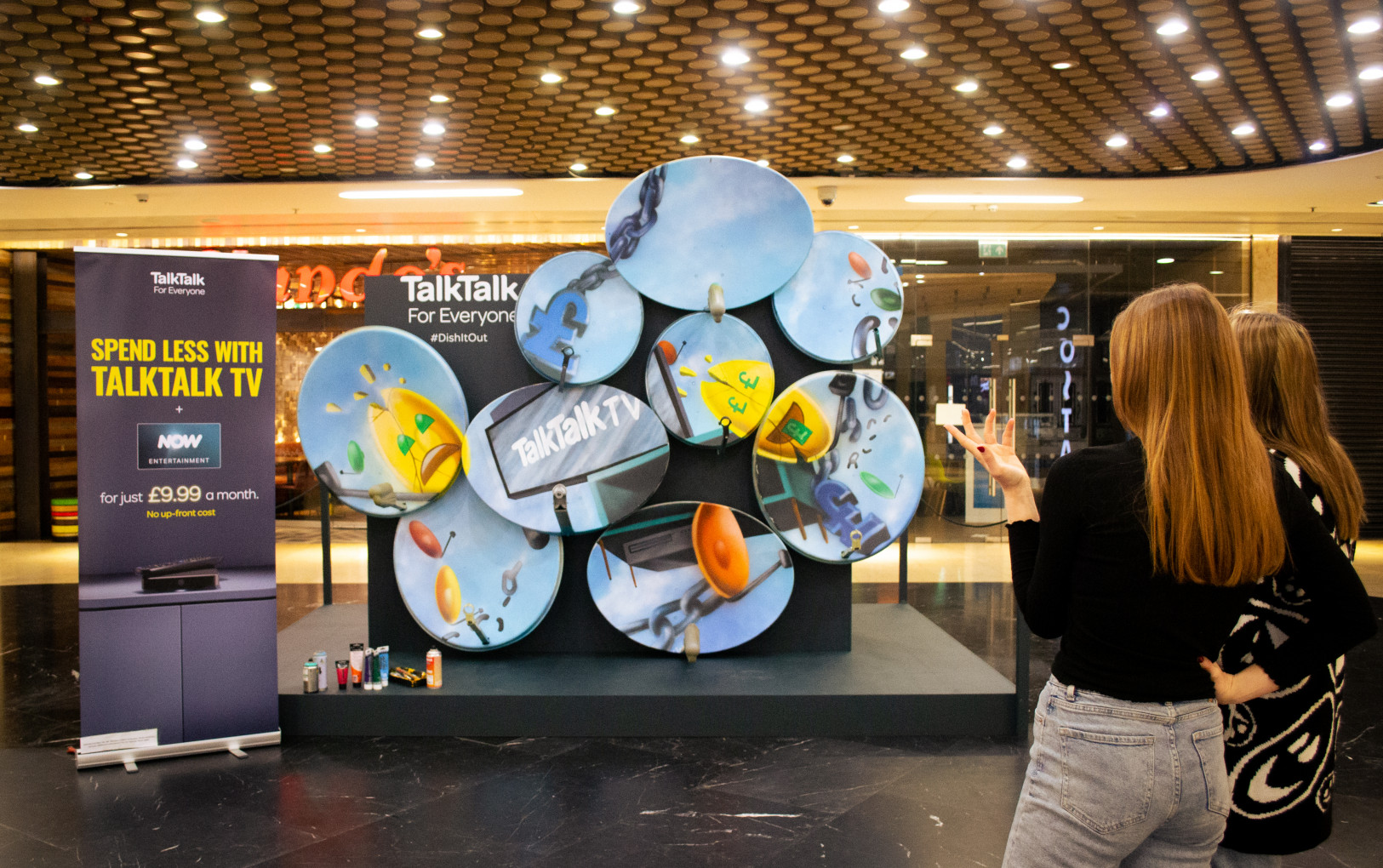 A live street art stunt highlighting that Brits don't need to dish out huge amounts of money on their TV package is coming to Birmingham's Grand Central this week.
Russell Meheen, known as Qubek on Instagram, is a graffti and mural artist, well known for uplifting redundant spaces across the North and enriching them with thought-provoking street art. He's teamed up with the UK's leading value connectivity provider, TalkTalk, to unveil its latest stunt - Dish it Out – which highlights that many Brits are spending unnecessarily on lengthy, expensive and bulky TV packages. ­
Russell Meheen, Graffiti Artist said:"I love being able to breathe new life into disused spaces, so being able to use my creativity to upcycle this old tech has been both exciting and eye opening. I also have a young family, so it's important for me to stay resourceful, by not wasting money on things we don't need, whilst making sure we stay connected and entertained."
From 9 am on Thursday 16th February, people passing through Grand Central Station's food court will be treated to live graffiti art featuring upcycled, redundant TV tech. Known for his bold and artistic flair, Qubek will transform old TV satellite dishes into Instagram-worthy wall art. Showcasing satellite dishes as iconic symbols of archaic TV packages, which often cost consumers a lot of money.
Jonathan Kini, Managing Director of TalkTalk Consumer said: "We're aiming to highlight that you don't need to break the bank when it comes to TV. Old tech often takes up lots of space, while some of the newer TV packages come with a big price tag and lengthy contracts. That's why we've launched our new TV Hub – the smarter, simpler and more flexible way to stay entertained for only £5 a month."
Bag a share of £2000 worth of vouchers at the event
Everyone needs a helping hand at the moment, which is why there will be an opportunity to bag a share of £2,000 worth of vouchers as part of a prize draw* on the day. TalkTalk will be dishing out golden envelopes to people who post a picture of the artwork on Instagram stories or Facebook stories, tagging @TalkTalk and using hashtag #DishitOut. Resulting in twenty lucky winners walking away with a £100 Love2shop gift voucher accepted at over 100 major retailers.
Dish out savings but keep the quality with TalkTalk's TV Hub
TalkTalk's Dish it Out stunt comes as Brits look for simple ways to save on their entertainment, without compromising on quality. With the TalkTalk TV Hub, customers can enjoy over 70 live TV channels, catch up services, and top streaming services with no long term commitments.
There's amazing new features such as Ultra HD 4K viewing and Dolby Atmos sound. Plus, access 10,000 + apps on the Google Play store, enjoy Chromecast built-in™ and access voice control by pressing the Google Assistant button on the remote.
A third off until 25th February
And until 25th February, customers who sign up for Full Fibre plans can get TalkTalk TV and a NOW Entertainment Membership for just £9.99 a month with no up-front costs**, saving 33% a month on the best entertainment available right now***.
For more information on the TalkTalk TV Hub: https://new.talktalk.co.uk/tv-fibre-broadband/tv-hub