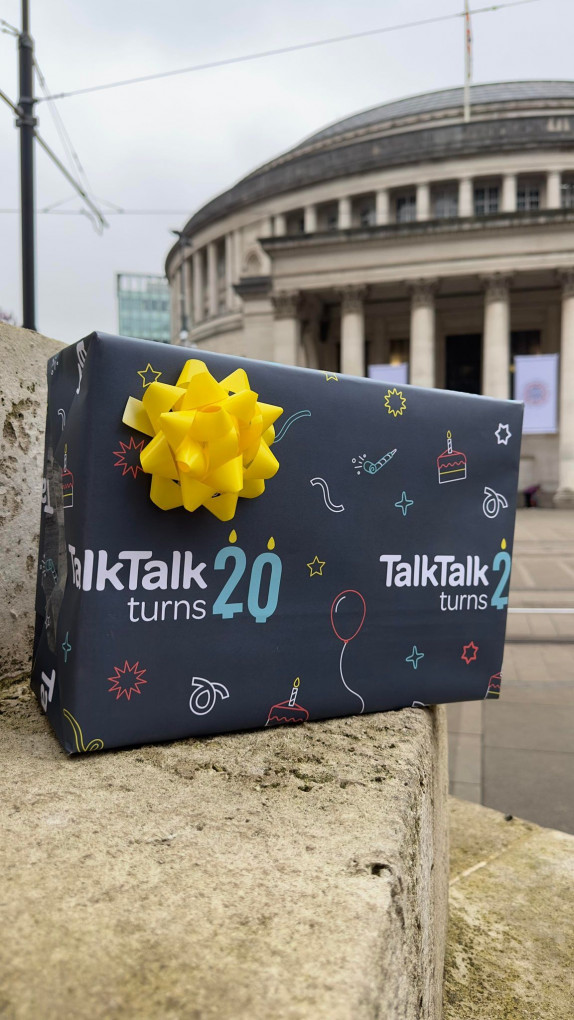 TalkTalk, the Salford-based connectivity provider, is launching a free Present Hunt to give back to the local community as it celebrates its 20th birthday.
The 'Present Hunt' will see TalkTalk give away 20 gifts worth £100 each at well-known landmarks across Greater Manchester from Tuesday 9th May until Saturday 13th May. Two gift boxes will be up for grabs in each Manchester borough so people from all across the county can get involved.
As the present hunt is launching ahead of the connectivity providers' sponsorship of the AJ Bell Great Manchester Run, each gift box will include running related presents, including wireless headphones from an award-winning brand, £60 sportswear voucher, water bottle and party accessories.
TalkTalk customers who win a present in the hunt will get an extra gift of two months free connectivity! All they will need to do once they have won a present is supply the brand ambassador with their name, email and mobile number and the credit will be applied to their account in the following weeks.
Becki Smith, General Manager of Full Fibre at TalkTalk, said: "We're proud to have been connecting people for 20 years and are always looking for ways to show our thanks to the local community. Our present hunt and sponsorship of the Great Manchester Run feels like the perfect way to celebrate this milestone."
To discover the giveaway locations, locals simply need to visit www.talktalk.co.uk/present-hunt to view the TalkTalk Present Hunt map and go live timings. On arrival at the winning locations, participants should look out for a TalkTalk brand ambassador waiting to greet them with the gifts.
TalkTalk will also be sharing tips for finding the brand ambassadors with the gifts on its Instagram channel @TalkTalk from 9th May .
The ambassadors will be stationed next to a 'TalkTalk Present Hunt' flag, dressed in a branded t-shirt and wearing party accessories, so they'll be easy to spot.
The Present Hunt comes as TalkTalk celebrates its 20th Birthday this year. Founded in 2003 to save people money and make the internet accessible to all, the connectivity provider was the first of its kind to get rid of line rental charges across all plans as well as offering free broadband. Since then TalkTalk has remained an innovative challenger and today serves over 4.2 million broadband, TV, mobile and landline customers.
TalkTalk's birthday Present hunt also follows the roll out of TalkTalk's Full Fibre packages across Greater Manchester, using the fastest, most reliable broadband technology. With speeds right up to 944Mb/s, it's 24x faster than standard fibre - meaning it can handle everyone in the home streaming and video-calling across different devices at the same time, and most importantly, connects families across the region.
For further information on TalkTalk Full Fibre, visit: https://new.talktalk.co.uk/